Pamela Bowe loads BÜHLMANN fCAL® turbo faecal calprotectin tests onto the Roche cobas® 6000 c501 analyser
BÜHLMANN fCAL® turbo is for Research Use Only in the US. Not to be used in diagnostic procedures.
Health Canada License: 96808
Pamela Bowe, Team Manager in the Department of Biochemistry at the Cumberland Infirmary tells us about her experience introducing the BÜHLMANN fCAL® turbo faecal calprotectin assay into her laboratory.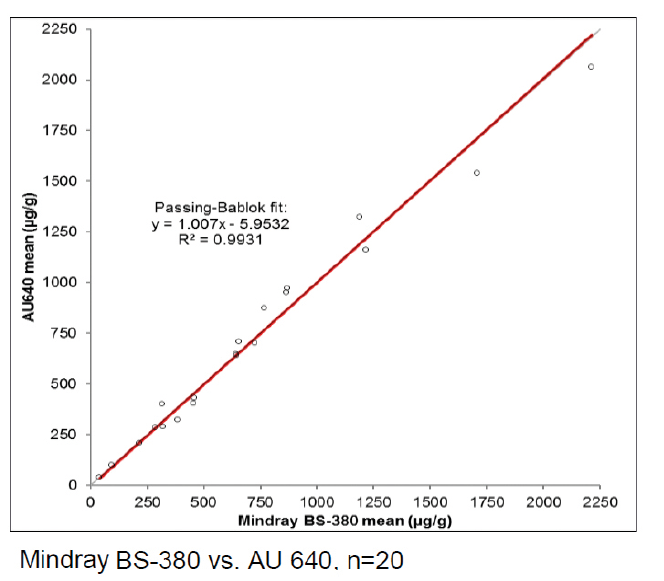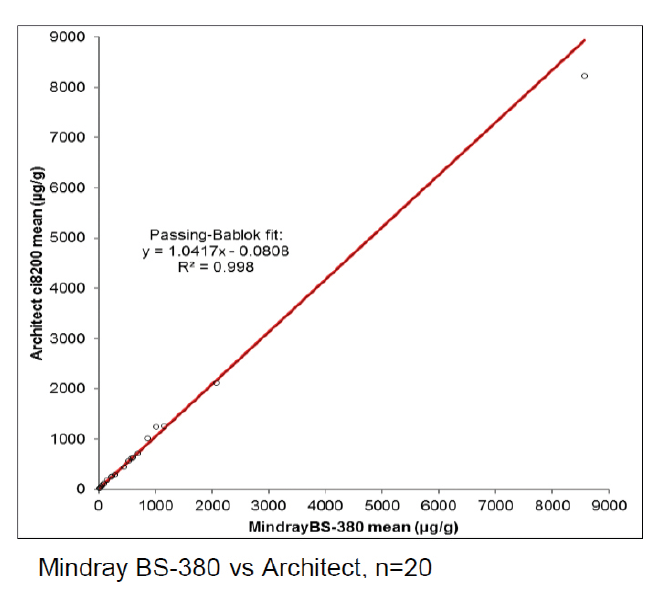 BÜHLMANN have a stand-alone Mindray BS-380 analyser, while the other participating laboratories used analysers from Siemens, Beckman, Roche, Abbott, Thermo Scientific and Mindray. Excellent results were achieved on all systems as can be seen from the example graphs to the left and the data in Table 1. These show the consistency in calprotectin concentrations found across multiple analysers.
The samples were tested by different technicians, using different fCAL turbo reagent lots, on different analysers, at different laboratories, in different countries on different days!
With an average R2 of 0.985, the calprotectin concentrations obtained with fCAL turbo on different analysers are highly correlated. This instils confidence in the comparability of data between sites and consistency of data over the movement of patients between test locations. It provides ultimate flexibility for future proofing calprotectin services due to analyser upgrades or a change to different analysers.
The complete set of correlation scatter plots can be seen at: www.alphalabs.co.uk/turboresults
A more detailed technical evaluation comparing the performance of the fCAL® turbo on the Cobas c501 and the Mindray BS- 340 has been published by the University of Uppsala and the Karolinska Institute Stockholm, Sweden, in September 2016: Nilsen T, Sunde K, Hansson LO, Mandic Havelka A, Larsson A. A novel turbidimetric immunoassay for fecal calprotectin optimized for routine chemistry analyzers. J Clin Lab Anal. 2016 Sep 15. www.ncbi.nlm.nih.gov/pubmed/27629827
Table 1: Extracts generated from frozen faecal samples examined for calprotectin using the BÜHLMANN fCAL® turbo assay on Mindray BS-380 v other analysers.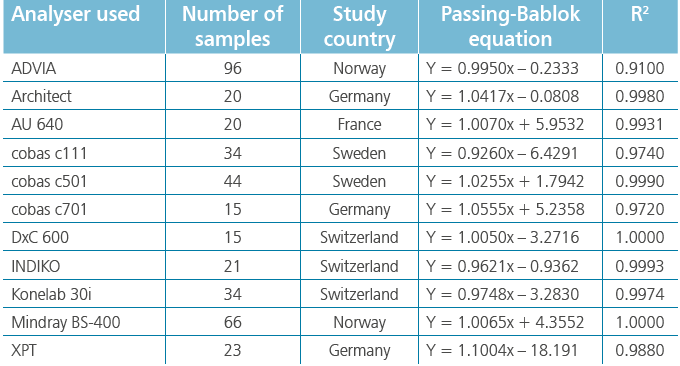 Article provided courtesy of Alpha Laboratories, Eastleigh, UK