Health Canada Licence: 98903, Device class: 3 
IBDoc® is not available for sale in the US.
Three Easy Steps to Help Monitor IBD
IBDoc® is the first self-testing application for fecal calprotectin in IBD patients that involves three easy steps. Based on BÜHLMANN's long lasting experience with calprotectin assays, IBDoc®  allows IBD patients for convenient self-testing of fecal calprotectin. CALEX® Valve has been developed for simple and easy-to-handle stool extraction. The incorporated valve allows the precise application of 60 µl onto the test cassette. The CalApp®  smart phone application is available for  iOS and Android transforms smartphones into a test cassette reader.
Features:
Reliable: All components of the IBDoc® systems have been developed to measure up to the highest standards of the industry resulting in a robust, reliable test – the first of its kind.  Quality is not just a statement, but part of BÜHLMANN's daily commitment.
Easy to Use: The IBDoc® Test Kit provides an easy to use therapy monitoring home testing system for IBD Patients – empowering the patients, connecting them with their doctors and allowing them to manage the disease as a team.
Secure: BÜHLMANN takes great care that patient information is transmitted and stored in a secure way. The IBDoc® Portal works with online-banking grade data encryption and only a patient's treating physician has access to medical information.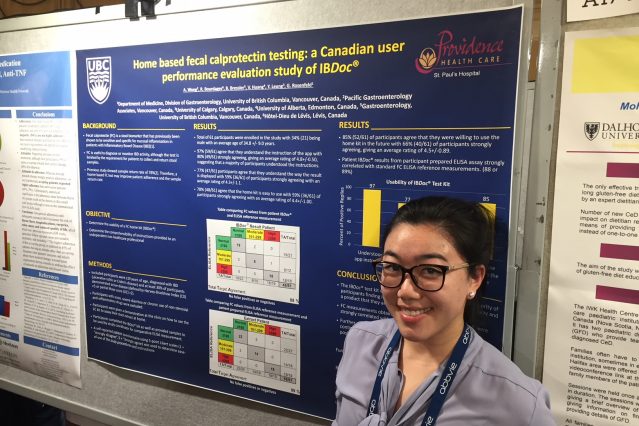 Home-based Fecal Calprotectin Testing: A Canadian User Performance Evaluation Study of IBDoc®
Learn more about BÜHLMANN's IBDoc® in this Canadian user performance evaluation poster that was presented at the 2018 Canadian Digestive Disease Week (CDDW).  View the results of  the usability assessment from the study participants of this fecal calprotectin home test.
New Faecal Calprotectin Cut-off Points for Remission and Active Disease Defined by UCEIS and Nancy Indices in Ulcerative Colitis (UC)
Check out this interesting poster focusing on disease activity assessment in the management of UC using IBDoc® to measure fecal calprotectin (Fcal)  to compare the values with that of simple clinical colitis activity index (SCCAI) and endoscopic/histopathological activity (UCEIS and Nancy indices).
Learn more about calprotectin and its value in Inflammatory Bowel Disease (IBD) monitoring as the key to a successful treatment pathway.
IBDoc®  is backed by numerous publications in the Gastroenterology field.  Discover a full list of key literature for IBDoc® fecal calprotectin citations categorized by clinical areas and indication for use.
IBDoc® Calprotectin Home Test  Video from BÜHLMANN
View this video for an overview of IBDoc® as a diagnostic device for the quantitative determination of calprotectin levels in stool samples for use as a Point-of-Care test or Home Test by the patient.
Health Canada Licence: 98903, Device class: 3 
BÜHLMANN IBDoc® is not available for sale in the US.
Learn more about IBDoc in our technical product flyer.  Find full list of supported smartphones  along with supported languages, correlation data of IBDoc® with BÜHLMANN fCAL® ELISA, and other data.
See details about IBDoc® technical performance details, key benefits, method comparison data, product specifications, usability and clinical performance data.
Other Relevant Resources
BUHLMANN Microsites:
Videos:
Learn More
Contact Collin or Jennifer today for more details on IBDoc® Calprotectin Home Test.
COLLIN SHAW
VP of Business Development
cms@buhlmannlabs.com
JENNIFER STUART
Technical Sales Specialist
jls@buhlmannlabs.com