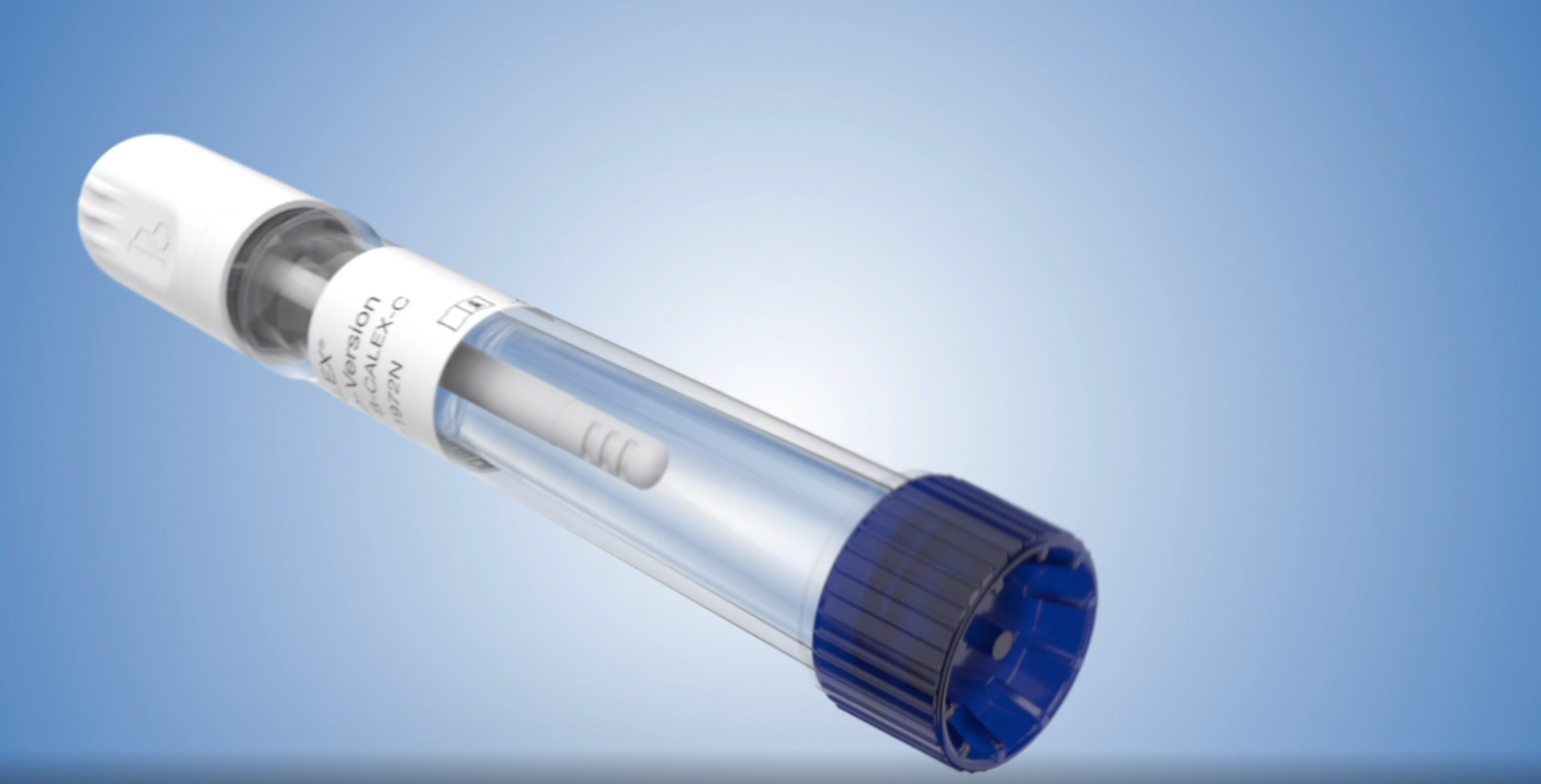 CALEX® Cap (K191718): FDA 510(k) cleared. For in vitro Diagnostic Use.
 Health Canada License: 98839
Rapid, Clean, Consistent and Safe Sample Preparation
The CALEX®Cap extraction device is designed to fulfill the requirements and need in the market for convenient and safe stool extraction. BÜHLMANN has strived to provide the best stool extraction option for calprotectin testing and that is evident in this device's innovative design as it offers superior precision and extraction efficiency.
CALEX®Cap is fully compatible with Total Laboratory Automation (TLA) solutions increasing the speed of sample processing and reducing hands-on time.
This device provides  rapid, clean, consistent, safe sample preparation, and is the simplest extraction method in market.
Features:
Rapid: Easy, precise extraction within 10 minutes
Efficient: Optimal dilution offers maximum extraction efficiency and increases lab productivity
Reliable/Accurate: This extraction device is standardized against the well established manual weigh method with excellent correlation (R2= .9).
Learn more about extraction with CALEX® Cap and check out the rest of the BÜHLMANN Calprotectin Assay product line.
Combined with the CALEX® Cap extraction device the fecal calprotectin testing workflow is further simplified thus reducing hands-on-time by 70%*.
*Schallberger, Y. et al. The Way to Total Automation of Calprotectin Measurement in Faeces with BUHLMANN fCAL® turbo. Swiss MedLab 2016, 13. – 16. June 2016. Berne, Switzerland.
CALEX® Cap Extraction Steps (Overview)
CALEX® Cap: Health Canada License: 98839 | (K191718): FDA 510(k) cleared. For in vitro Diagnostic Use.
 Download Flyers
Learn more about CALEX® Cap extraction device, and assay standardization for use in US and Canada.
Contact Us!
Contact Collin or Jennifer today for more details on CALEX® Cap fecal extraction device.
COLLIN SHAW
VP of Business Development
cms@buhlmannlabs.com
JENNIFER STUART
Technical Sales Specialist
jls@buhlmannlabs.com