Visit our booth to get an update on our Calprotectin and Therapeutic Drug Monitoring product portfolio: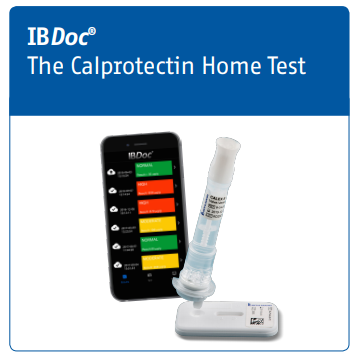 IBDoc®, the first in-vitro diagnostic POC and home testing device to measure the inflammatory marker, fecal calprotectin.
BÜHLMANN IBDoc® is an in vitro diagnostic immunoassay for the quantitative determination of fecal calprotectin in human stool. The results of the assay are analyzed by a downloadable smartphone application. IBDoc® is intended as an aid to the determination of the inflammatory status of the patient's intestinal mucosa for inflammatory bowel disease (e.g. Crohn's Disease and Ulcerative Colitis) monitoring. IBDoc® is an assay developed for self-testing / home use by trained patients ages 12 and above that are under the care of a healthcare practitioner. The test may also be used in a near-patient or laboratory setting.
Health Canada Licence: 98903, Device class: 3
BÜHLMANN IBDoc® is not available for sale in the US.